Đáp án đề vào lớp 10 môn Tiếng Anh chuyên Lê Hồng Phong Nam Định 2017
Mời các em cùng tham khảo chi tiết Đáp án đề thi vào lớp 10 môn Tiếng Anh chuyên Lê Hồng Phong Nam Định năm 2017 mà các bạn thí sinh vừa hoàn thành do diemthilop10.info cập nhật sau đây:
Đề thi vào lớp 10 môn Tiếng Anh chuyên Lê Hồng Phong Nam Định 2017-2018
PART A. LISTENING (2.0 POINTS)
I. PART 1: You'll hear a conversation between a man and a woman. Listen and complete the form below. You will hear the conversation TWICE. (1.0p)
Question 1-5.
PAN ASIAN AIRWAYS
LOST PROPERTY REPORT FORM
Full name: Kirsty Allen
Address: (1)______________Windham Road, Richmond
Postcode: (2)______________ Home Tel: 020 8927 7651
Mobile. Tel: (3)______________
Flight number: (4)______________
Seat number: (5)______________
From – To: New York – London Heathrow
Question 6-8. Circle THREE letters from A to F. What items did Kirsty's bag contain?
A. Her house keys B. 200 dollars C. A book
D. Her passport E. Pens F. 17 pounds
Question 9-10. Circle the letter (A, B, C or D) that correctly answers questions 9 and 10.
9. What has Kirsty done regarding to the loss of her credit card?
A. informed both the police and the credit card company.
B. informed the police but not the credit card company.
C. informed the credit card company but not the police.
D. informed neither the police nor the credit card company.
10. What must Kirsty do after the call regarding to her lost handbag?
A. Call back after one hour and a half.
B. Call back the next day if she has heard nothing.
C. Just wait for a phone call.
D. Call back after one hour and a half if she has heard nothing.
II. PART 2: You will hear a man giving information to a group of students. You will listen TWICE. (1.0p)
Question 11-15. Complete the sentences below. Write NO MORE THAN THREE WORDS AND/OR A NUMBER for each answer.
11. The man is the...............................of Student Services at Radstock.
12. The ..................................are all enrolled as students at the university.
13. The student discount cards allow students to save up to........................percent when eating out.
14. Students interested in joining a club can sign up on weekdays between.............................o'clock.
15. The man advised the students to .............................and enjoy themselves.
Question 16-20. Answer the questions below. Write NO MORE THAN THREE WORDS AND/OR A NUMBER for each answer.
16. What kind of difficulties might people experience? .......................................................
17. What is the first problem that the man mentions? .......................................................
18. How often do drop-in sessions take place? .......................................................
19. How long do drop-in sessions often last for? ........................................................
20. Who runs the workshops on personal development?....................................................................
PART B. GRAMMAR AND VOCABULARY (2.0 POINTS)
I. Circle the letter A, B, C or D to complete each of the following sentences. (1.0p)
1. What a lovely baby______!
A. do they have B. have they C. they have D. they don't have
2. Why don't you buy oranges when they are much______than apples?
A. less expensive B. not expensive C. as expensive D. lesser expensive
3. My mother______for an hour and she hasn't finished it yet.
A. has cooked B. has been cooking C. had cooked D. had been cooking
4. ______I'd like to help you out, I'm afraid I just haven't got any spare money at the moment.
A. Much as B. Try as C. However D. Despite
5. I bought some new shoes. They felt a bit strange______because I wasn't used to them.
A. first B. at first C. firstly D. first of all
6. There should be no discrimination on the______of sex, race or religion.
A. grounds B. places C. areas D. fields
7. I can't find my purse anywhere. I must______it at the cinema.
A. leave B. have left C. be leaving D. have been leaving
8. We don't sell newspapers because there is no_______for them.
A. demand B. requirement C. claim D. request
9. A policeman suddenly appeared, so the thief quickly ______on a motorbike.
A. took in B. made off C. handed in D. took over
10. She insisted that the reporter ______her as his source of information.
A. didn't mention B. doesn't mention C. hadn't mentioned D. not mention
II. Each of the following sentences has ONE mistake. Underline the mistake and write the correction in the provided blank on the right. There is an example at the beginning (0). (0.5 p)
Sentences

Corrections

0. People tend to make a lot of shopping at Christmas.

do

1. Although a number of police officers

was

guarding the invaluable treasures in the museum, the director worried that someone would try to steal them.

2. Laser treatment isn't always effective and chemotherapy isn't, neither.

3. All of mammals, dolphins are undoubtedly among the friendliest to humans.

4. Dams are used to control flooding, provide water for irrigation, and generating electricity for the surrounding areas.

5. I made every effort to contact with John two weeks ago but so far I haven't received his reply.
III. Give the correct form of the words in capital letters. Write your answers in the blanks. (0.5p)
1. She didn't want to give him the _______________of seeing her cry. (SATISFY)
2. The church was damaged in the war but it has now been ______________ (BUILD)
3. We can't tell which team will win. The result is so _______________ (PREDICT)
4. The young man was _______________for possession of drugs for five years. (PRISON)
5. Should developing countries be given more_______________by the West? (ASSIST)
PART C. READING (3.0 POINTS)
I. Read the text and circle A, B, C or D that best fits each space to complete the text. (1.0 p)
HISTORY OF WRITING
The development of writing (1)______a huge difference to the world and we might see it as the beginning of the media. Pieces of pottery with marks on that are probably numbers have been (2) ______ in China that date from around 4000 BC. Hieroglyphics and other forms of "picture writing" developed in the (3)______around Mesopatamia (modern-day Iraq), where the (4)______Sumerian civilization was based, from around 3300 BC onwards. However, the first (5)______alphabet was used by the Phoenicians around 1050 BC. Their alphabet had 22 letters and it is (6)______that it lasted for 1000 years. The first two signs were called "aleph", which in Greek became "alpha" and beta", which gave us the (7)______word "alphabet'.
The modern European alphabet is based on the Greek and (8)______to other European countries under the Romans. A number of changes took (9)______as time passed. The Romans added the letter G, and the letters J and V were (10)______to people in Shakespeare's time.
1. A. made B. took C. did D. had
2. A. invented B. displayed C. appeared D. discovered
3. A. earth B. length C. area D. distance
4. A. ancient B. old-fashioned C. antique D. dated
5. A. precise B. true C. exact D. accurate
6. A. observed B. measured C. estimated D. counted
7. A. modern B. trendy C. new D. fashionable
8. A. was B. spread C. appeared D. occurred
PART D. WRITING (3.0 POINTS)
I. Finish the second sentence so that it has a similar meaning to the first one, using the clues at the beginning of each sentence. (0.5p)
1. She felt sorry she hadn't gone to his birthday party.
- She regretted……………………………………………………………………………………………………
2. You missed the class yesterday so you can't do this exercise now.
- Had……………………………………………………………………………………………………………….
3. She was so physically attractive that every boy ran after her.
- Such ……………………………………………………………………………………………………………..
4. I am sure the man took the money on purpose.
- The man can't……………………………………………………………………………………………………
5. The number of people out of work has fallen dramatically this year.
- There has ………………………………………………………………………………………………………
II. Complete the second sentence so that it has a similar meaning to the first sentence, using the word given in brackets. Do not change the word given. (1.0p)
1. I don't intend to take a part-time job this summer. (INTENTION)
- I ……………………………………………………………………………………………………………………
2. What a pity I told John about my plan. (ONLY)
- If……………………………………………………………………………………………………………………
3. There is no way that young man can pass the coming driving test. (BOUND)
- That young man………………………………………………………………………………………………….
4. He was so scared that he couldn't tell me what he really thought. (COURAGE)
- He …………………………………………………………………………………………………………….. ….
5. Do you think that people's personalities are strongly affected by climate? (INFLUENCE)
- Do you think that climate……..………………………………………………………………………………..?
6. It was the heavy rain yesterday that made me ill. (FOR)
- If…………………………………………………………………………………………………………………...
7. He did not get married until he was 40 years old. (UNTIL)
- It …………………………………………………………………………………………………………………..
8. The events of that day were described in detail by my daughter. (DETAILED)
- My daughter……………………………………………………………………………………………………..
9. The phone rang again as soon as I put it down. (HAD)
- Hardly………………………………………………………………………………………………………. …..
10. My grandfather completely forgot that he had phoned me. (RECOLLECTION)
- My grandfather didn't have …………………………………………………………………………………….
III. Write a paragraph. (1.5p)
It is obvious that there are more and more people going on holiday all over the country. What, in your opinion, are the reasons for this? Write a paragraph of about 150 words to support your answer, using examples and relevant evidence.
Dưới đây là đáp án chi tiết đề thi vào lớp 10 môn Tiếng Anh chuyên Lê Hồng Phong, Nam Định năm 2017-2018 sẽ được diemthilop10.info cập nhật sớm nhất để các em dự đoán mình được bao nhiêu điểm thi lớp 10 Nam Định trong kỳ thi THPT năm nay.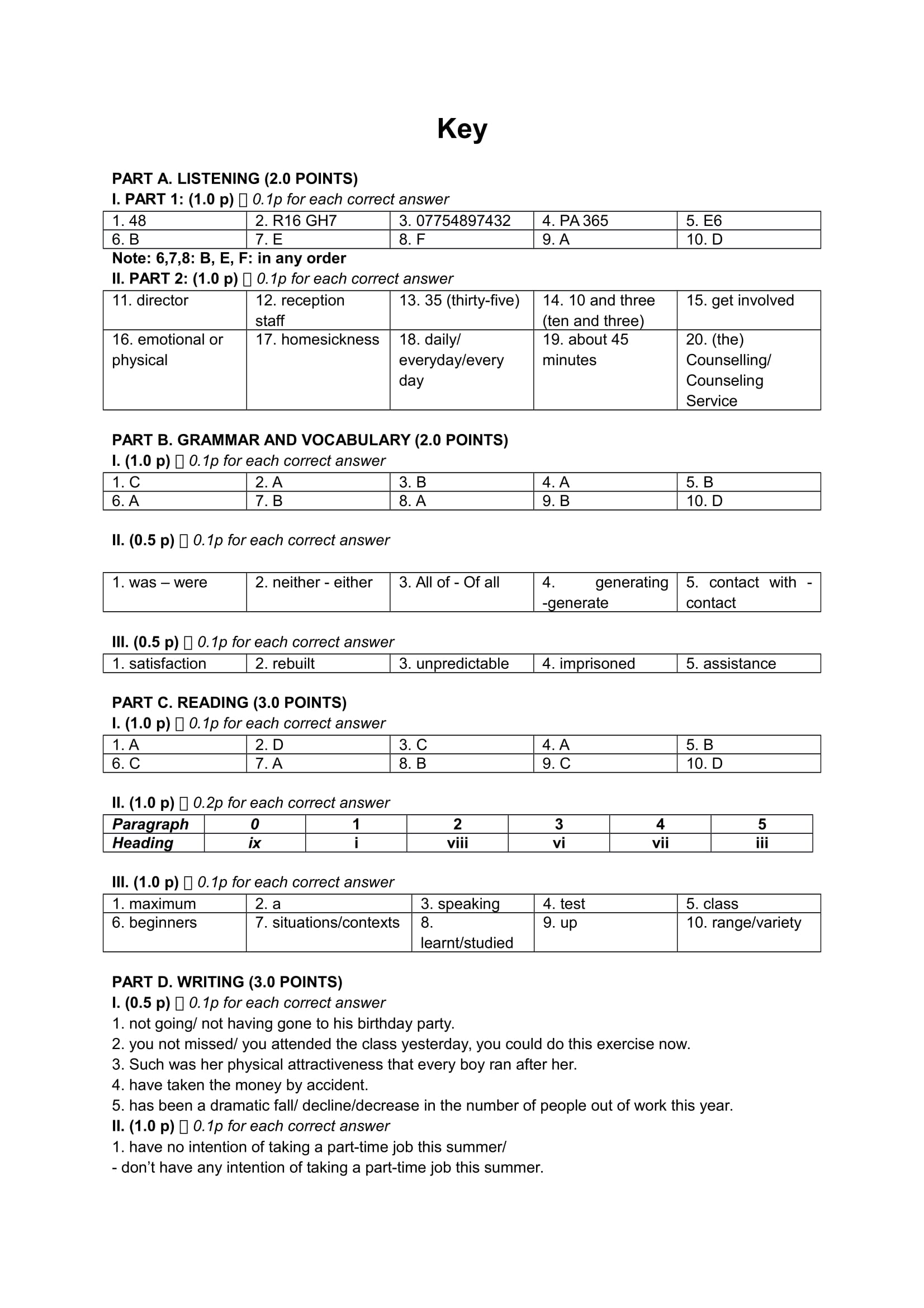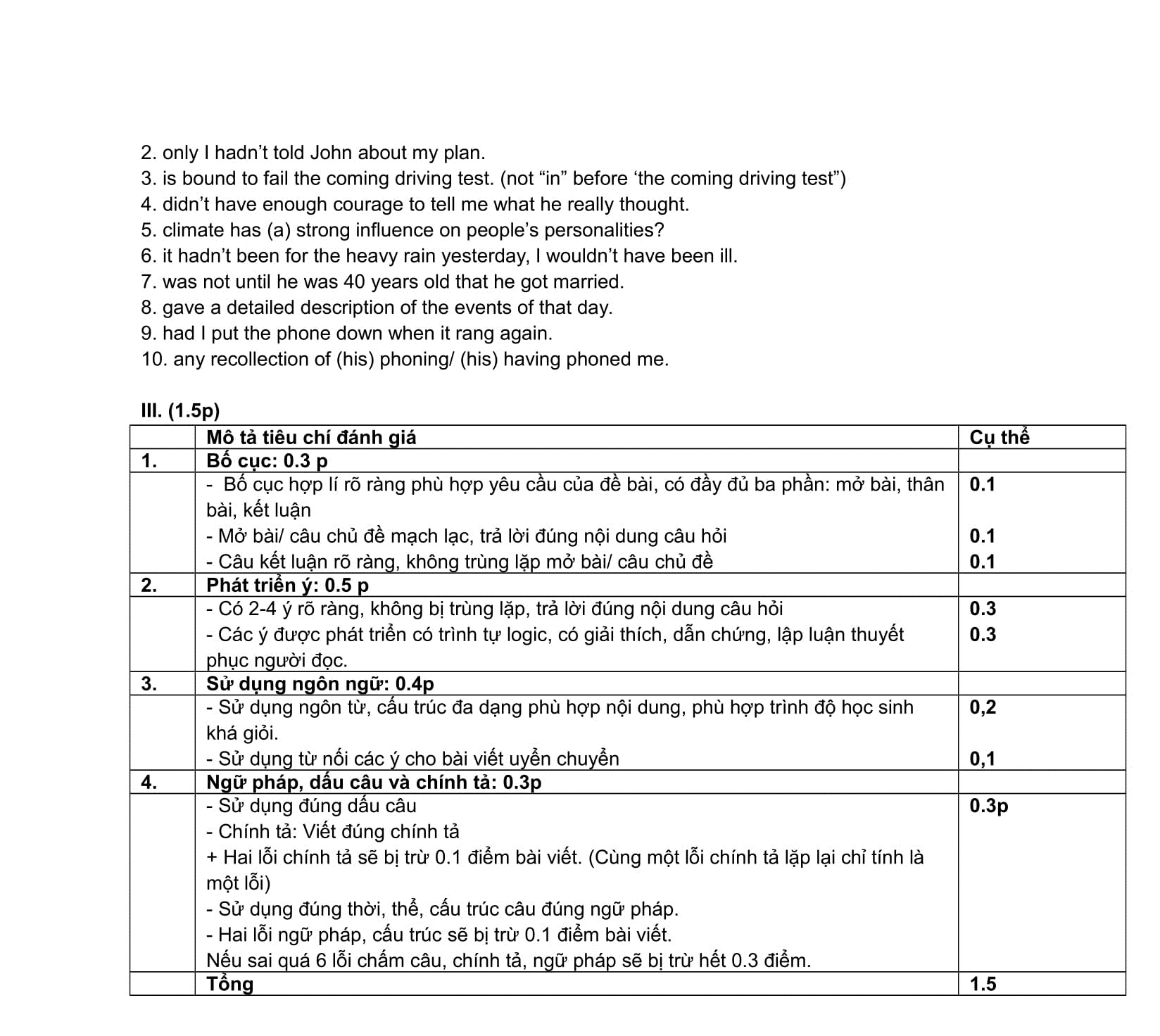 Theo dự kiến, phụ huynh và các em học sinh có thể tra cứu điểm thi lớp 10 khoảng từ 10 - 15 ngày sau ngày thi. Hãy theo dõi trang diemthilop10.info để có được thông tin sớm nhất điểm chuẩn lớp 10 các tỉnh thành trên cả nước.